People's Climate March
On 21 September 2014 the biggest climate mobilisation ever took place. 2646 events in 162 countries.Urgenda organised the closing event in Amsterdam.
On Sunday, 21 September 2014, a worldwide People's Climate Mobilisation took place. The largest climate march ever with close to 400,000 participants was organised in New York, with parallel events in Berlin, London, New Delhi, Rio and also in Amsterdam. These events were to take place just before the international climate summit in New York that was attended by government leaders from all the nations of the world. The People´s Climate March was meant as a wider signal sent out by all those people who strive for a more sustainable world. It is crucial that drastic measures are taken now to preserve the planet we live on.
the march in Amsterdam
To show that they care about the next generation and want to protect the planet they will live on, 5000 people gathered at the Dutch closing event in Amsterdam. These poeple expressed their wish for a new and circular economy that is not dependent on fossil fuel, but is powered by renewable energy. An economy that is based on values other than greed and growth.
Event
On 21 September, dozens of groups walked, rode, or sailed towards the closing event on the north bank of the IJ harbour in Amsterdam at the location of the iconic EYE film museum. Groups from Friesland, Rotterdam, Utrecht, and The Hague were present, as well as a number of church communities and a range of NGOs. Local energy companies, entrepreneurs, and students joined in. Organisations such as MVO Nederland, Oxfam Novib, WWF, and Groene Grachten all participated in the march towards the EYE. The old and the young from every part of society.
Programme
At 18:00 the closing event started next to the EYE film museum in Amsterdam. A number of well-know speakers, including Freek de Jonge and Jan Rotmans addred the crowd. The theater show The Baracade will performed protest songs that have defined movements from the past and there were a number of musical performances by the Netherlands Wind Ensemble, DJ Isis, The Lexican & Sef, Florian Wolff and Justin Samgar.
People from the crowd were able to "walk" on the water of the IJ, as long as they keept their speed up (at the installation "Get Moving or Drown") and a light signal was sent to New York and other places around the globe where events took place.
Some of the marches in teh Netherlands that took place:
- 08:00 Peoples March from Station Utrecht Terwijde
- 11:30 Bike March from Gaasterlandstraat Amsterdam
- 11:40 Train/March Maastricht
- 12:30 Train/March Haarlem
- 14:20 Train/March Nijmegen
- 15:00 Interreligious March from the Oude Kerk Amsterdam
- 16:00 Sailing March from the Dijksgracht 4 Amsterdam
- 16:00 Green Bus March from Leeuwarden
- 16:00 March from hetSingel Amsterdam
- 16:00 March from Nemo Amsterdam
- 16:00 Electric Vehicle March from the A1 Fastned-Pampol
- 16:00 March from OBA Oosterdokskade Amsterdam
- 17:00 March with Avaaz from the Klimmuur Amsterdam
- 17:30 March from Mosplein Amsterdam
- 18:00 Closing Event EYE Film Museum
You can download the visual here and the poster/flyer here.
Photo's
Facebookpagina | Mars vanaf de klimmuur | Interreligeuze klimaatmars | Parool | Grits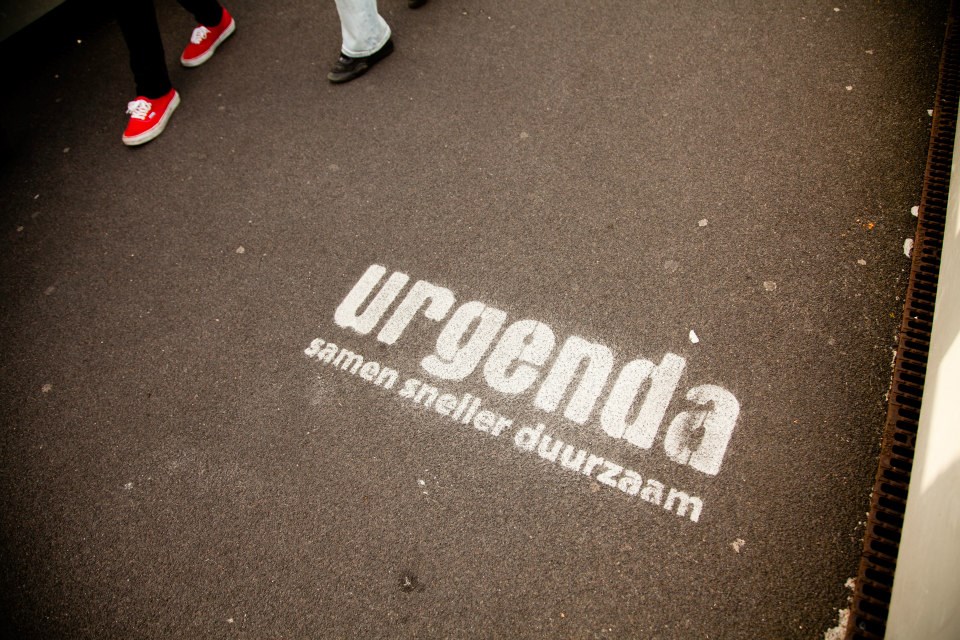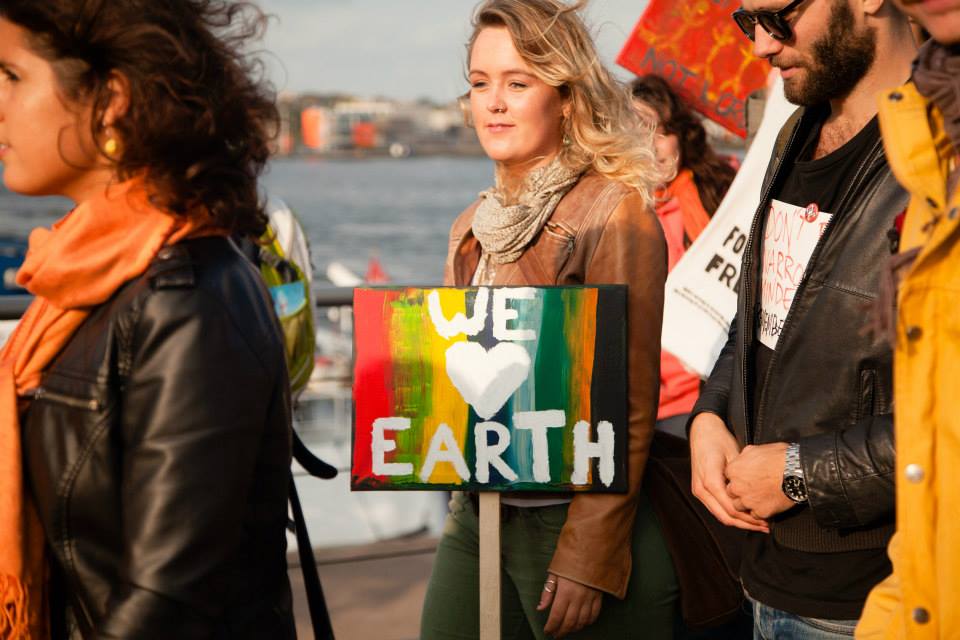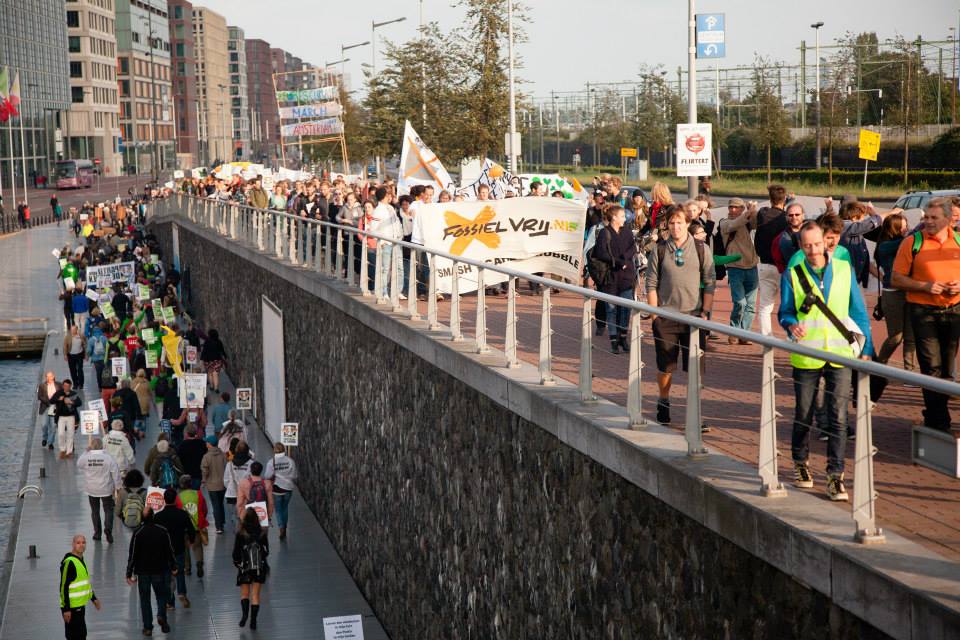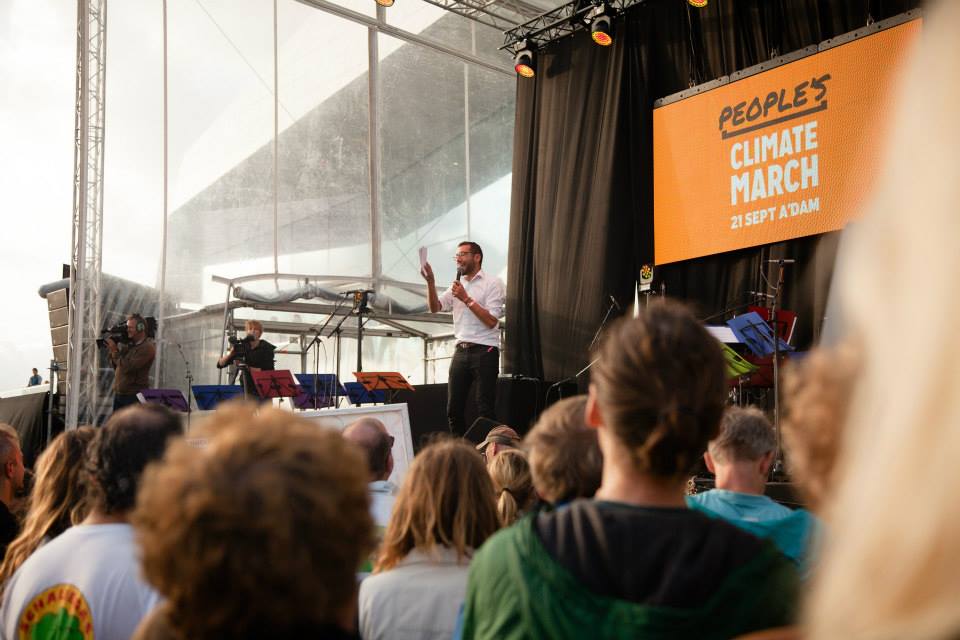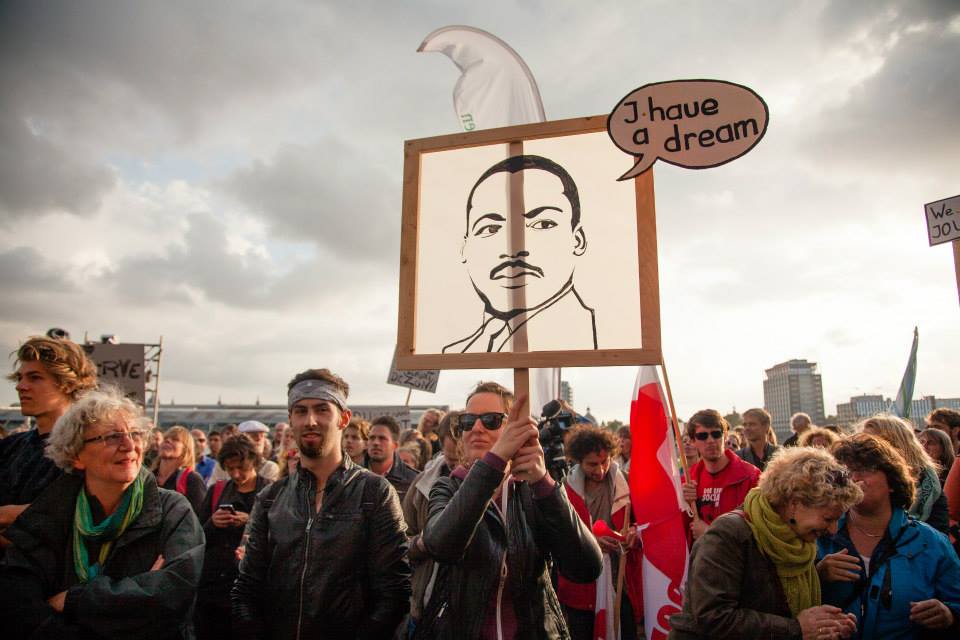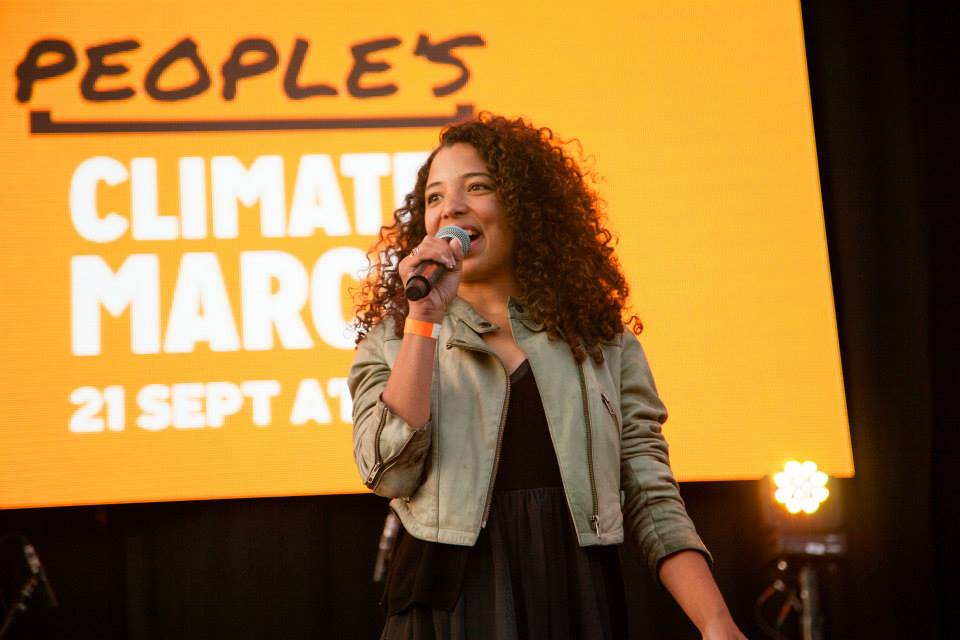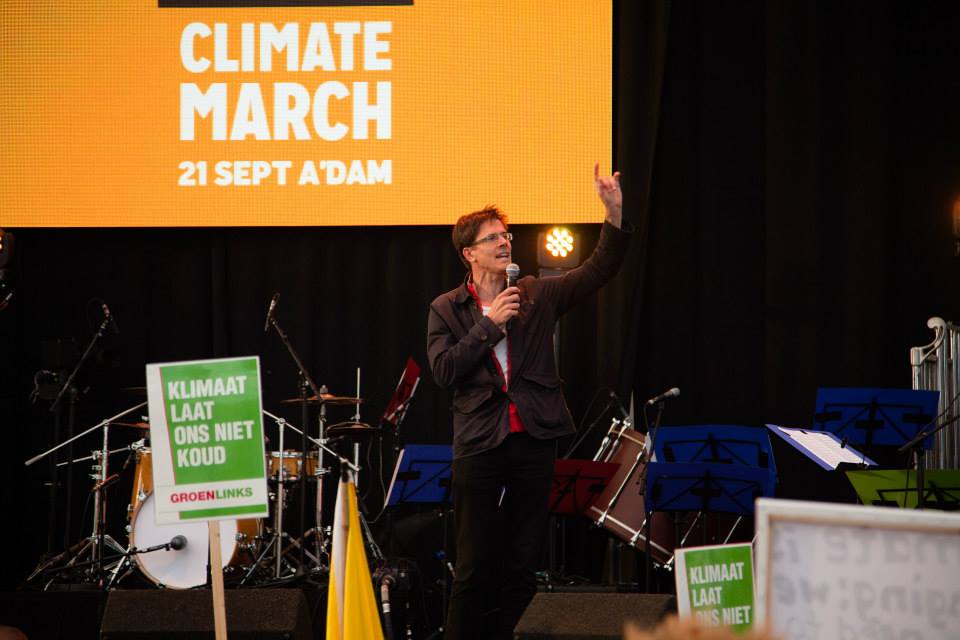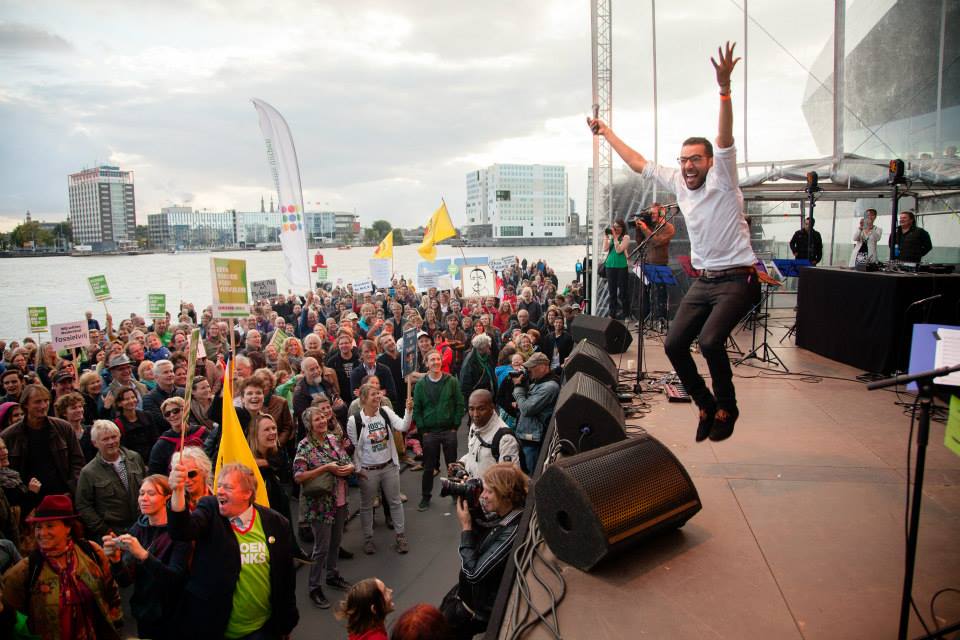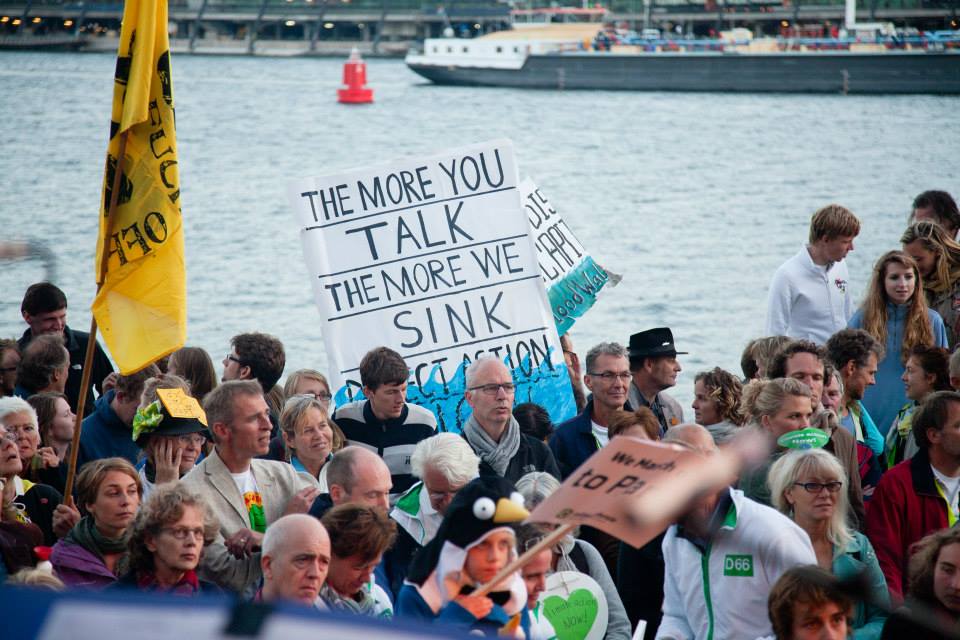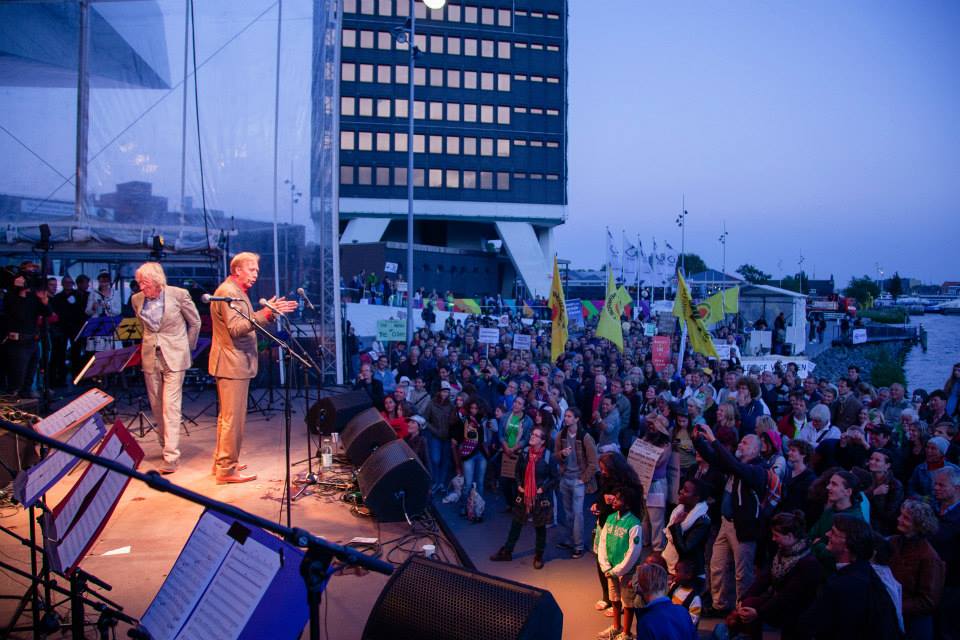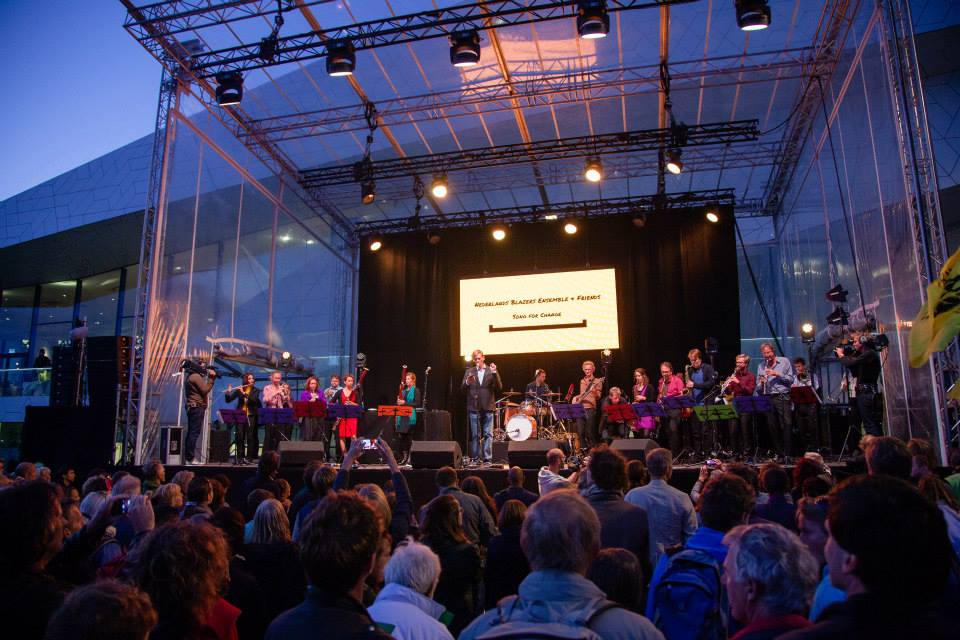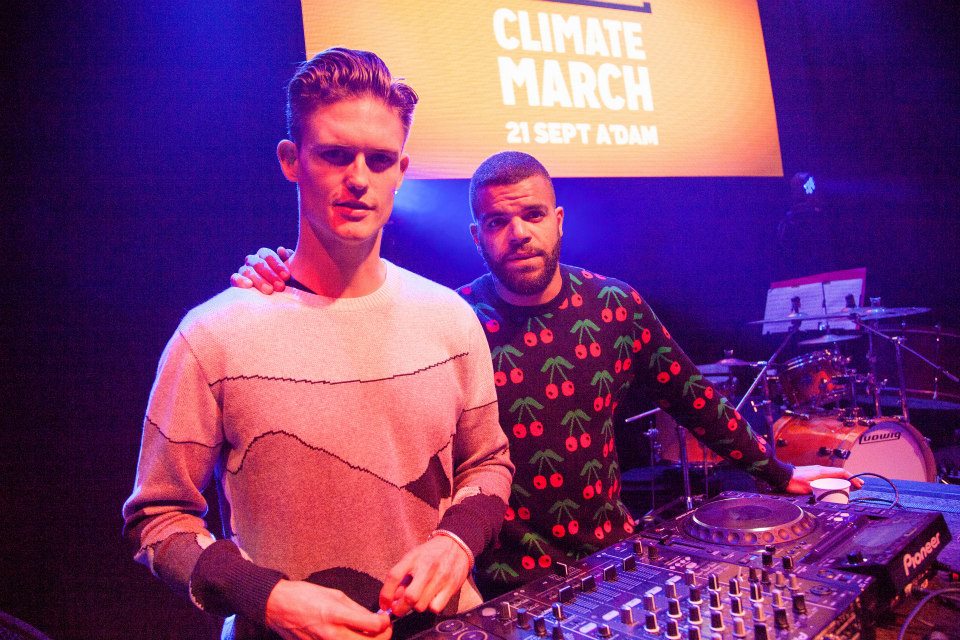 "DISRUPTION" - a film by KELLY NYKS & JARED P. SCOTT from Disruption on Vimeo.